Committed to making your Bridal Henna experience cherish able for years to come.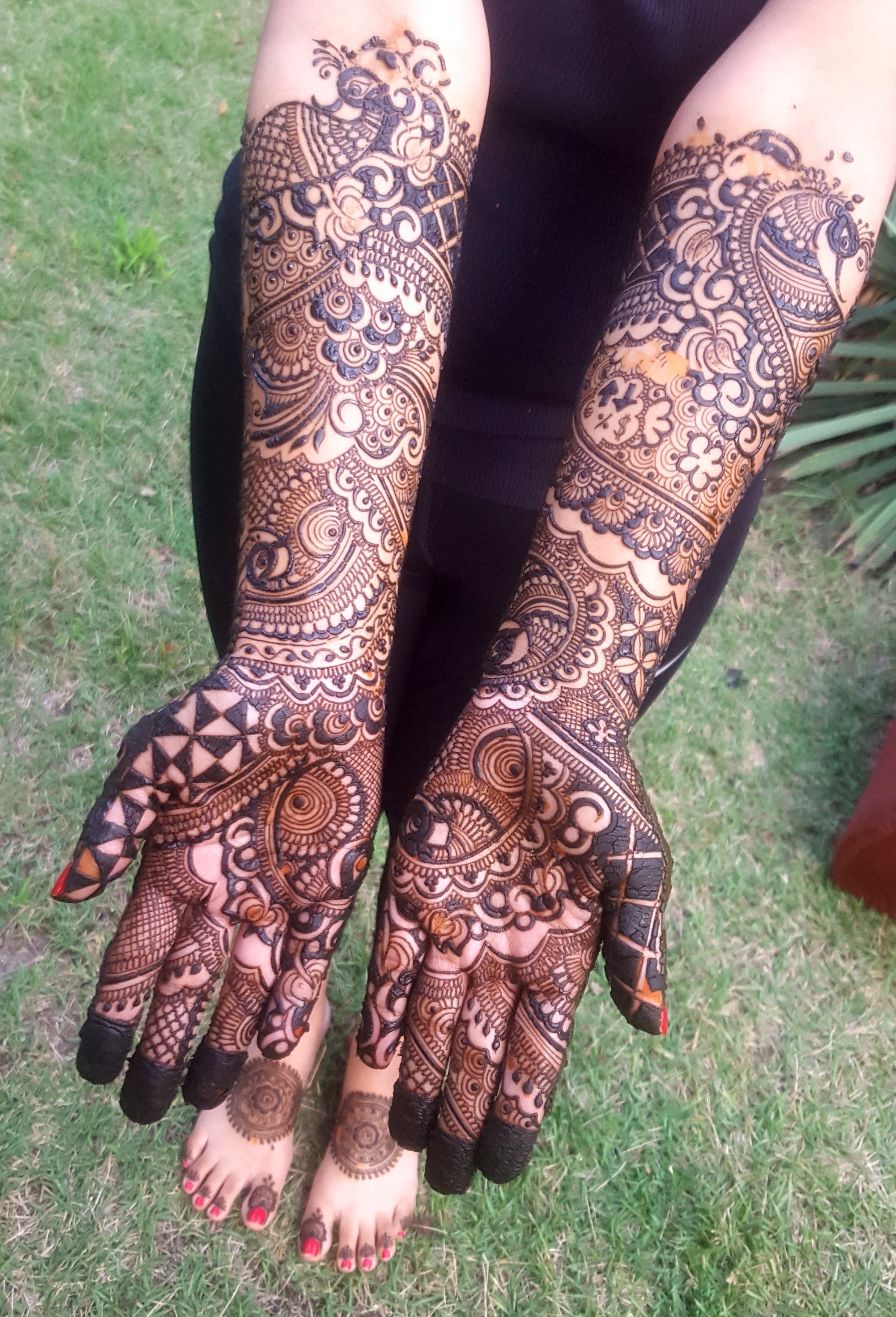 My brides choose from a wide range of bridal design options, from simple to intricate, from traditional Indian to trendy Indo-Khaleeji Fusion. I specialize in creating a unique design for you including details from your love life to add a spark of romance, aka "Henna Love Stories."
All packages include complimentary simple matching feet henna. I would love to incorporate Bride/Groom (Raja/Rani) Figures to give your mehndi, a touch of elegance and royalty, for all packages.
There might be a travel charge depending on your location.
Bridal Package prices depend on the Intricacy and coverage
on arms and legs (details below).

Bridal Henna Trails
Bridal Packages includes a FREE simple quick design trail to test for stain results at artist's location and consultation to discuss design style, details and pricing.
Detailed design will be charged.
Coverage is categorized as how high would you like to wear your henna beyond your wrist and ankle.
Intricacy is categorized as "traditional" and "bespoke/intricate rajhistani" henna.
Traditional package covers indo-khaleeji, indo-arabic, Jewelery, AshKumar and simple Rajhistani (includes bride, groom, elephants, peacocks, musical instruments, Shri Ganesh, OM etc) style Henna.
Bespoke/Intricate Rajhistani package caters to the brides, who would love to wear their love story and/or intensive figure work or super intricate Pakistan's Famous Kashee's style henna (aka. Bohri). You will get unique personalized design based on the details of your love life including skylines, landscapes, Monograms, symbols, dancers, bidai bride, palki and much more.

Maharani - Diamond
This package caters to a traditional bride who wants to shine on her big day. This package offers traditional or Bespoke/Intricate rajhistani henna designs on both the tops and bottoms of your hands extending to 2inch beyond the elbow (upto 12 inches beyond wrist) with matching simple complimentary feet henna.

Feet Coverage is customizable as per your desire. Let me know the coverage and intricacy you like and I would gladly provide the quote exclusively tailored to your requirements. Minimum Deposit will be required to secure your date.